www.RogerWendell.com
Roger J. Wendell
Defending 3.8 Billion Years of Organic Evolution
SM

KGNU Two
Overflow from my KGNU page!

Me and Erin Hamilton at the People's Fair

Although KGNU has its own web page, I thought it interesting to feature them here as well. I became associated with the station as a music programmer in 1995. Since then I've been fortunate to conduct not only a great many music programs, but a variety of interviews for various news and public affairs programming. These have included programs like Friday morning Connections, Metro, Metro Arts, A Public Affair, the Thursday Evening Call-in Show, Hemishperes, Live from Penny Lane, How on Earth science show, It's The Economy, and others.

The volunteers, staff, and guests at KGNU have been instrumental in bringing a varity of diverse music and interesting topics to the public airwaves. I am grateful that the station has allowed me, on air, to pursue my passion for science, population issues, Deep Ecology, and other topics of interest to me (and my listeners!). However, on a cautionary note, KGNU (like all other broadcast outlets) must resist the urge to censor or inject bias into its news and interviews - regardless pressure from listeners and donors. The concept of a "community" radio station, where all can contribute, is a grand idea that is a wonderful alternative to what's normally available through commercial and public radio. Let's all work to keep bias and censorship out of radio - including KGNU...
"This is a short announcement to let everyone know that Cindie and I (Tim) recently did an interview with a Denver/Boulder
radio station KGNU. The show is called Metro and the interviewer is Roger Wendell. I think he is a very insightful host and
dug deeper into the less known aspects of out trip and also focuses on recent political/economic events."

- Tim Travis, author of The Road That Has No End: How we traded our ordinary lives for a global bicycle touring adventure.

KGNU: Community radio for Boulder and Denver, Colorado!

This page, along with my one on Acupuncture, is kind of an overflow from my main KGNU page! It's here that you'll find not only extra pix and information, but actually cut-and-pastes from stuff that was used for my show off KGNU's official site where we usually remove stuff immediately after a show. Either way, I hope you enjoy the page - it sure brings back fond memories for me!

(Click on this meter to hear KGNU live)

KGNU's Audio archives

| | | | | | |
| --- | --- | --- | --- | --- | --- |
| 88.5 | FM | Boulder | | Listener Call-in line: | 303-442-4242 |
| 1390 | AM | Denver | | Outside Calling Area: | 800-737-3030 |
| 93.7 | FM | Nederland | | Studio Line: | 303-449-4885 |
| 98.7 | FM | Fort Collins | | Comment Line: | 303-447-9911 |
| | |
| --- | --- |
| | Click Here for my main KGNU page! |
| | |
| --- | --- |
| | Click Here for my KGNU show on acupuncture! |
(Click on any of this page's "thumbnail" images for a larger view...)
Connections


| | | |
| --- | --- | --- |
| Me and Nancy Taddiken | Me and Hannah Leigh Myers | Joel Edelstein (pictured further below) started producing a Friday morning show, on KGNU, called "War Talk," in January 1991. With the defeat of the Iraqi army, at the end of March that year, Joel changed the name of the show to "Peace Talk." Joel produced the show weekly until February, 1992, when he recruited four other volunteers who formed a collective to produce a new program with a new name, "Connections." [Ed note: I, myself, didn't join Connections until the end of the 90's but continued with them on a regular basis through the second decade of the second millennium...] |
| | |
| --- | --- |
| | Although I've conducted interviews for just about every program at KGNU, the bulk of my work has been with Friday morning "Connections." It's a rare occasion when all five Connections hosts can be in the same place at the same time but, as luck would have it, we were all able to meet at Boulder's Tangerine Restaurant on June 9, 2017. From left to right: Joel Edelstein, Hannah Leigh Myers, Kathy Partridge, me, and Duncan Campbell. |
Morning Sound Alternative


| | |
| --- | --- |
| | I've had the pleasure of working with Meredith Carson for many years (decades?) at KGNU. Usually I'd "hand-off" the microphone on a Friday morning, after my "Connections" show, so that she could start her "Morning Sound Alternative" program with "Drift Away" (by Dobie Gray). I thank Meredith, here, for all the times my talk show interviews strayed a minute or two into her music program. Meredith is a class act and one of the most popular DJs at the station! |

Making Primitive Fire
Shelley Schlender wrote:

Roger Wendell interviews Michael and Lorritta Slayton, who are longtime practitioners of primitive fire making and survival skills. Teaching at rendezvous, schools, and outdoors shows Michael and Lorritta have delighted thousands with their "Backup to the Bic" demonstrations - how to create a lifesaving fire during an emergency when matches and high-tech lighters won't do the trick. Primitive fire making focuses on very old, but tried and true ways of making fire. Today, Michael "Big Smoke" and Lorritta "Flint Woman" Slayton will teach us about Bow Drill Fire Sticks and the flint-and-steel methods for creating fire - assuring us that what we learn from the past will make us wiser for the future.

Connections, Friday morning, March 28, 2008:
Closing the Food Gap Resetting the Table in the Land of Plenty
Author Mark Winne was my in-studio guest that morning (this was at a time when world food prices, especially for
rice and other staples, were rising dramatically...)
On the KGNU site we wrote:
In preparation for the interview Roger undertook an unscientific sampling of grocery prices at two stores; one, a small store located in the heart of Denver's inner city and the other store (part of those famous chains!) out in the Lakewood suburb. Although not a nutritious sampling, Roger does eat this stuff (!) and provided the following price chart and comparisons after his purchase on Wednesday:
| | | | |
| --- | --- | --- | --- |
| Grocery Item | Inner City Price | Suburb Price | Percent Difference |
| Cheddar Cheese 8.0z/227g | $3.53 | $1.67 | 211% |
| Potato Chips 12.0z/340.2g | $3.49 | $2.50 | 40.0% |
| Fruit Pie 4.5z/128g | $1.19 | $1.00 | 19.0% |
| Vanilla Wafers 12.0z/340g | $2.23 | $2.19 | 1.8 % |
| Lemonade 64 Floz/1.89L | $1.33 | $1.69 | -27.0% |
Note: All items were the exact same weight/volume at both stores with the
cheddar cheese, potato chips, and fruit pie being the exact same brands...
| | | | | |
| --- | --- | --- | --- | --- |
| Author Mark Winne | Closing the Food Gap | Inner city store | Roger's groceries... | Boulder co-op 2006 |

Sam Fuqua, Daniel Costella, holiday parties, etc!
Sam, our news director back then, gets ready for a trip to
Madegascar and Daniel was moving to the western slope!
And, of course, our annual holiday party is always a big hit!
| | | | | |
| --- | --- | --- | --- | --- |
| Sam and me! | Sam, Maeve & Joanne | Sam and Daniel | Holiday party photo by Melody | If you click on the holiday photo, at left, you can search around a bit and find , Sam Fuqua, Shawna Sprowls, Nikki Kayser, Evan Perkins, Duncan Campbell, Brigitte Mars, Jill, Michael, Karen, 99, me, and a lot of other great volunteers! |

Guest Comments:
By the time I created this second KGNU page I had interviewed well over 100 different guests - all of whom were very interesting but busy people. I usually try to call or email them, after the program, to let them know how it went, provide and audio link, and thank them for their time. Usually they call or write back with an additional thought or response so I'll try to post some of their comments here as time permits...
October 16, 2008 (Thursday afternoon Metro)
This is a short announcement to let everyone know that Cindie and I (Tim) recently did an interview with a Denver/Boulder radio station KGNU. The show is called Metro and the interviewer is Roger Wendell. I think he is a very insightful host and dug deeper into the less known aspects of out trip and also focuses on recent political/economic events. The mp3 interview can be found at the link below.(http://www.prescottyellowpages.com/Video/MP3/Metro_Radio_Interview.mp3)

- Tim and Cindie Travis, authors of Down the Road in South America (A Bicycle Tour through Poverty, Paradise, and the Places in Between)

| | |
| --- | --- |
| | Audio from some of my past shows, news, promos, and listener comments: |
| | |
| --- | --- |
| Fall 1999 Program Guide | |

The Announcer's Test
This particular "announcers test" originated at Radio Central New York,
in the early 1940's, as a cold reading test given to prospective
radio talent to demonstrate their speaking ability:

Me in KGNU's music library

One hen
Two ducks
Three squawking geese
Four limerick oysters
Five corpulent porpoises
Six pair of Don Alversos tweezers
Seven thousand Macedonians in full battle array
Eight brass monkeys from the ancient sacred crypts of Egypt
Nine apathetic, sympathetic, diabetic, old men on roller skates with a marked propensity towards procrastination and sloth
Ten lyrical, spherical diabolical denizens of the deep who haul stall around the corner of the quo of the quay of the quivery, all at the same time.
Twitter Me This!
| | |
| --- | --- |
| | Click Here for my interview with Saint John Hunt... |
| | |
| --- | --- |
| | Click Here for my interview with Paul Krishnamurty... |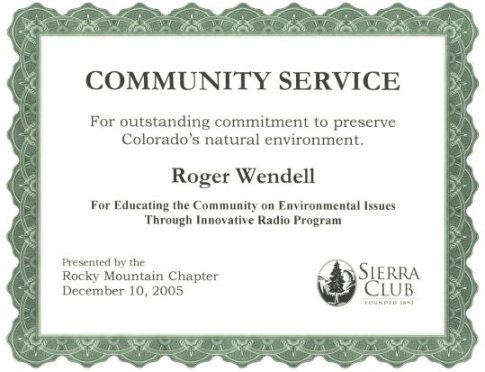 I was honored to receive the Rocky Mountain Chapter's
Community Service Award on December 10, 2005!

Links:
I don't necessarily endorse any or all of these links. However, I list 'em here for a variety of reasons; as alternative sources, exposure
to differing opinions, entertainment, new information, or (most importantly) Sun Tzu's reminder that you should know your enemy...


Back to Roger J. Wendell's Home Page...


Abbey | About | Blog | Contacting Me | Copyright | Disclaimer | Donate | Guest Book | Home | Links | Site Index | Solutions | Terms, Conditions and Fair Use | What's Changed or New?
Copyright © 1955 -