www.RogerWendell.com
Roger J. Wendell
Defending 3.8 Billion Years of Organic Evolution
SM


Russian Survival Suit
From the Sierra Club's Rocky Mountain Chapter
Peak & Prairie publication
Volume XXIII, Number 3, June/July 1998, page 9

Backcountry Survival 101
by Roger J. Wendell, Rocky Mountain Chapter Outings Chair

| | |
| --- | --- |
| | Click Here for the Ten Essentials - Don't leave home without 'em! |
| | |
| --- | --- |
| | Click Here for my page on Lightning Safety... |
| | |
| --- | --- |
| | Click Here for my page on Bear Safety... |
In the last issue I talked about the "Ten Essentials" and the hope that we could reduce problems in the backcountry. Unfortunately, as I write this essay, the bodies of two young hikers have just been recovered a few miles outside of Canon City - both died from hypothermia. Also, as I write, the search for their adult companion continues, bringing to mind some important backcountry issues:
Before any outing, ALWAYS let someone know where you are going, what your expected route of travel is, and when you expect to return.

As outlined in the last issue, EACH member of every outing must carry at least the Ten Essentials. It doesn't matter how short the trip or how inseparable the couple - everyone must individually carry at least the minimal amount of emergency gear.

It is very dangerous for individuals to separate from a group; always try to keep the party together. Assigning a "Rear Leader," to keep track of stragglers, is a common practice for large groups.

If you think you're lost, STOP! Look around for other members of your party. Shout or use your whistle, then listen for an answer. If you don't hear anything, stay calm and use your powers of reason to combat panic.

Use your map and compass to figure out your location before forging on. Scan the landscape for features you can reason from. If you can't figure out where you are, think back to where you were an hour ago, or to the last location you where exactly sure of. If that spot is fairly close, within an hour or so, retrace your steps and get back on route. Otherwise, if you're still confused, STAY PUT!

Don't travel in the dark! Long before night sets in you should be constructing a shelter, looking for water, and building a fire. Not only is a fire comforting, but it can aid searchers in finding your location as well.

Make yourself comfortable but keep signaling from time to time. Eventually you will be reported missing, so STAY PUT until searchers show up.

BUY a [Colorado Outdoor Recreation Search and Rescue (CORSAR) card] - Available at most hunting, fishing, and outdoors stores, this little piece of paper provides search and rescue organizations state reimbursement should they come looking for you. At [three DOLLARS] a year there is no excuse not to buy this type of "insurance" - I buy mine in five year sets for each member of my family.
Again, there's more to the study of survival than just reading a short essay like this. Formal course work, publications like The Mountaineers' Freedom of the Hills, and conscious preparation can keep an enjoyable backcountry experience from becoming a newspaper headline.
©Copyright 1998 Roger J. Wendell

Remember, Stay Calm!
"The panic response triggered by runaway catecholamines* can serve vital ends, as in the proverbial superhuman feats of strength performed by men and women who lift cars off victims trapped beneath the wheels. On the whole, however, the panic is more dangerous than helpful. Thus survival experts teach their students to 'stay calm,' to 'avoid compulsive behavior and don't hurry.' They stand by acronyms such as STOP - 'stop, think, observe, plan.'"

- David Roberts in his book, On the Ridge Between Life and Death
(A Climbing Life Reexamined)

*Any of a group of amines derived from catechol that have important physiological effects as
neurotransmitters and hormones and include epinephrine, norepinephrine, and dopamine.

A note on backcountry safety
from my friend Larry DeSaules - April 4, 2010
Pretty darn good job, Rog.

My $.02:

I think individuals need to know and understand that whether you're on a CMC trip, or a trip guided by an AMGA mtn guide, out alone, or with friends out cragging, backcountry skiing, accidents are bound to happen.

The final decision as to your own personal safety resides with you the individual. Peer pressure to get to the top, keep going when a storm approaches, etc plays a huge part in mtn safety. The individual has to trust his gut once in a while and say 'this doesn't feel right.'

I mentioned the AMGA guide above, because last year a guide had a group out on a couloir snowfield all roped together, and he failed to drive in any snow pickets. Up, up, up they all went until ... He fell, dragging his group hundreds of feet down the mountain. There were injuries.

One or two incidents showing poor leadership decisions can certainly give the club, mountaineering, organizations a black eye, when in fact, 99% of the trips are safe and sound.

Great job keeping safety up on your site.

Lar

My Chronicle of Philanthropy photo
In their regular series, Survive, the Sierra Club magazine published this answer from Sascha Paris (their Outings' training manager) in response to a reader question about ill-equipped and unprepared backcountry skiers overdue on a very cold night: "Pre-trip preparation is vital. Evaluate the experience and fitness level of all members of your party and whether they have appropriate equipment for the (possibly new) activity. Remember that groups travel slower than individuals. If possible, scout snow conditions, routes, and bail-out options in advance; at a minimum, call a local outfitter or do an Internet search. Finally, share written trip information with all parties - plus a loved one at home, in case you don't return on time."

November/December 2010
"Blindsided" p. 26

Whistle Protocol
as recommended by the Colorado Mountain Club

A whistle is one of the Ten Essentials CMC recommends its members and guests carry at all times while hiking, backpacking, skiing, snow shoeing, climbing. A whistle is a tool used to communicate to others in situations where human shouts cannot be heard. Although three blasts on a whistle are recognized as HELP, there is no standardized response to let the initiator know he/she has been heard and response is on the way. The Denver Safety & Leadership Committee (DS&L) has developed a Whistle Protocol designed to be simple and effective for our leaders and members to initiate and respond in specific situations where the human voice may not be heard.

This matrix can be cut out and taped onto a water bottle with transparent packing tape which will somewhat protect the paper from moisture. In order to communicate in an emergency the whistle is to be worn on the outside of a backpack or day pack.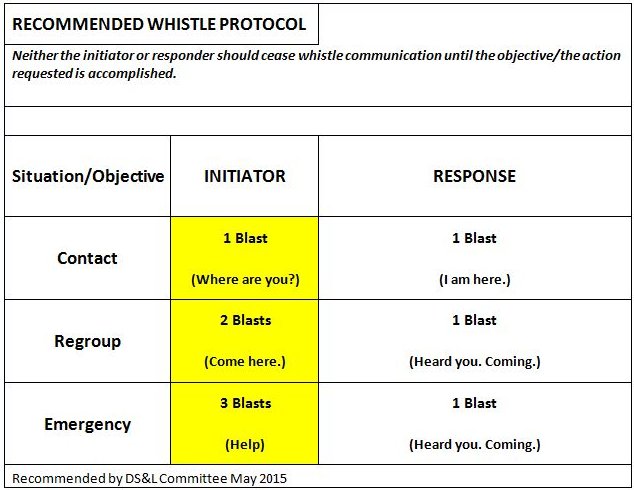 Links:
Warning! Climbing, mountaineering, and backcountry skiing are dangerous and can seriously injure or kill you. By further exploring this web site you acknowledge that the information presented here may be out of date or incorrect, and you agree not to hold the author responsible for any damages, injuries, or death arising from any use of this resource. Please thoroughly investigate any mountain before attempting to climb it, and do not substitute this web site for experience, training, and recognizing your limitations!


Back to Roger J. Wendell's Home Page...


Abbey | About | Blog | Contacting Me | Copyright | Disclaimer | Donate | Guest Book | Home | Links | Site Index | Solutions | Terms, Conditions and Fair Use | What's Changed or New?
Copyright © 1955 -