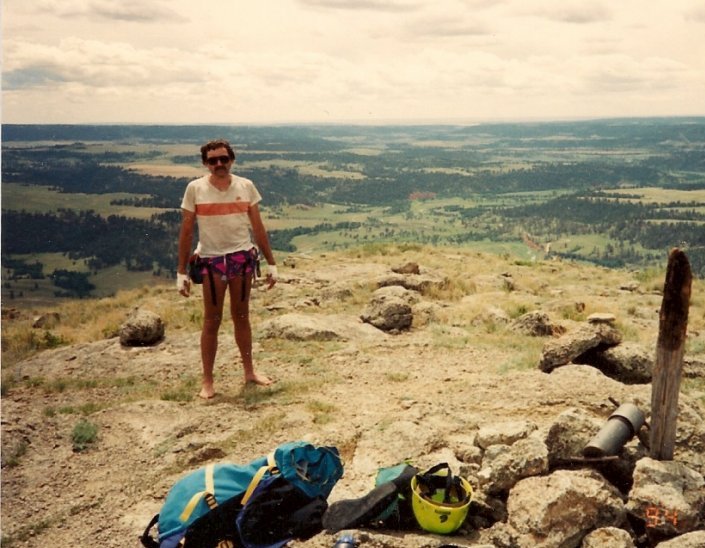 Me, at age 38 (1994) on top of Devils Tower, Wyoming
Well, okay, for clarification I do wear shoes when necessary! I have donned footwear at the office when working for others, doing construction projects, climbing to 6,000 metres, or anywhere else that shoes, sandals, or boots make sense. However, at all those other times in my life, throughout my entire life, I've gone without shoes - at home, a walk through my town, shopping, sightseeing, cycling, driving a car, and even some hiking and climbing. In the spring of 2014 I applied for membership in the Society of Barefoot living. Here's part of what I wrote during the application process:
I'm writing this self-introduction as an elder, in his early retirement years, having gone barefoot (whenever possible) since my earliest memories. Not because I wanted to be different, "cool," or anything else but, simply, because it's always felt good, natural and "right." Long ago my wife and I banned all footwear in our home - believing that bare feet are not only more gentle on our floors but that they also provide a sensitivity and intimacy to living that can't be realized with footwear. The same applies to the outdoors (and even in the cold and snow at times) - bare feet better connect us with our surroundings, the natural world, and our existence here on this precious little planet we call home. It's a small thing, but bare feet really do bring us one step closer to caring for ourselves, those around us, and the Earth.
A few days later, and after some follow-up questions, I received the following:
Welcome to the Society for Barefoot Living (SBL), the group for
cool barefooted people. We'd officially like to welcome you to
the SBL, as your application has now been approved by our
Membership Committee. We are always happy to welcome other
like-minded souls to the group and look forward to hearing from
you. Soon you should begin receiving SBL posts via email.