www.RogerWendell.com
Roger J. Wendell
Defending 3.8 Billion Years of Organic Evolution
SM

From the Sierra Club's Rocky Mountain
Chapter Peak & Prairie publication
Volume XXIII, Number 2, April/May 1998, page 23

The Ten Essentials
(and Then Some)
by Roger J. Wendell,
Rocky Mountain Chapter Outings Chair
| | |
| --- | --- |
| | Click Here for my Backcountry Survival page... |
| | |
| --- | --- |
| | Click Here for my page on Lightning Safety... |
| | |
| --- | --- |
| | Click Here for my Bear Safety page... |
Back in the late 1990's and early 2000's I was a webmaster (with Charlie Oriez and others) for the Sierra Club's Rocky Mountain Chapter in Colorado. At that time I created a number of their webpages, related to the outdoors, in addition to writing a few articles for their state publication and group newsletters. Below is much of what I wrote, back then, about the Ten Essentials. However, times (and technology) changes so I want to caution you that there is a lot more to this subject that you need to know to be safe in the backcountry! So, enjoy what I've posted here (and wrote back then) but please study the latest materials (from other sources) for not only your own safety, but also to help keep animals and the natural environment as undisturbed as possible.
As the Chapter's new outings Chair, I encourage, almost insist, that we spend more time with nature. I hope to devote future articles to destinations, low impact techniques, and the interesting experiences to be found outdoors. First, we need to look at some basic safety items that should be included in every daypack. Each member of any outing should always carry at least these basic items in case of an emergency. (Remember, reading a short essay like this is not sufficient preparation for an outdoor experience.)
Map - Topographic "quad" (US Geological Survey, 7.5 minute Quadrangles are inexpensive and available everywhere).

Compass with straight edge - GPS units can be useful but are not reliable [ed note: As recently as August 2011 there was still serious concern that solar flares would disrupte the world's GPS devices...].

Matches and Fire Starter - A good supply of matches (protected against moisture) and at least two butane lighters. "Fire Starter" is any type of material that can be used to ensure that the fire stays lit and grows, even during wet conditions (i.e., candles or chemical and wax preparations available at outdoor and surplus stores).

Headlamp or Flashlight with extra bulb and batteries - Headlamps are preferred because they free your hands for other tasks.

Extra water and food - Always carry plenty of water, along with a purification device and/or chemicals.

Extra Clothing however, no cotton! - Cotton retains moisture and loses its ability to insulate - a very dangerous combination in the high country. Wool, polyester, and synthetics are vastly superior. An extra pair of heavy weight socks are also a "must."

First Aid Supplies - First Aid training is strongly recommended.

Pocket Knife - I like the ones full of gadgets that have at least one solid, traditional blade.

Bivy Gear - "Space" blanket, large lawn bags, 50 feet of cord, and the thermal pad. The space blanket can be used as a temporary shelter or signaling device. Large garbage bags can be used to reinforce your shelter, as additional raingear, makeshift sleeping bags, etc.

Sun Protection - Sunglasses and suncsreen.

Signaling Devices - Whistle (carries farther than shouting) and mirror.
Optional items I like to carry include:
Avalanche Beacon, Avalanche Probe, and Snow Shovel - Even if you're not in avalanche terrain you could be called to an area to help others.
(In the winter you should ALWAYS carry these three items (Beacon, Probe, Shovel) wherever you go in the backcountry!)

Gaiters - Excellent ankle and leg protection in the snow, mud, heavy brush and scree-strewn slopes.

Insect Repellant

Sierra Cup - Excellent for melting snow or cooking in (worthless for drinking hot liquids because the metal edge will burn your lips!)
Each individual, regardless of the group's size, must carry at least the Ten Essentials. This applies even to "inseparable" couples who share tents and sleeping bags - there's a chance you might get separated and spend some time alone. The Ten Essentials won't guarantee your survival, but they will put you way ahead of those lost hikers we read about in the papers each year.

©Copyright 1998 Roger J. Wendell

A note on backcountry safety
from my friend Larry DeSaules - April 4, 2010
Pretty darn good job, Rog.

My $.02:

I think individuals need to know and understand that whether you're on a CMC trip, or a trip guided by an AMGA mtn guide, out alone, or with friends out cragging, backcountry skiing, accidents are bound to happen.

The final decision as to your own personal safety resides with you the individual. Peer pressure to get to the top, keep going when a storm approaches, etc plays a huge part in mtn safety. The individual has to trust his gut once in a while and say 'this doesn't feel right.'

I mentioned the AMGA guide above, because last year a guide had a group out on a couloir snowfield all roped together, and he failed to drive in any snow pickets. Up, up, up they all went until ... He fell, dragging his group hundreds of feet down the mountain. There were injuries.

One or two incidents showing poor leadership decisions can certainly give the club, mountaineering, organizations a black eye, when in fact, 99% of the trips are safe and sound.

Great job keeping safety up on your site.

Lar

Whistle Protocol
as recommended by the Colorado Mountain Club

A whistle is one of the Ten Essentials CMC recommends its members and guests carry at all times while hiking, backpacking, skiing, snow shoeing, climbing. A whistle is a tool used to communicate to others in situations where human shouts cannot be heard. Although three blasts on a whistle are recognized as HELP, there is no standardized response to let the initiator know he/she has been heard and response is on the way. The Denver Safety & Leadership Committee (DS&L) has developed a Whistle Protocol designed to be simple and effective for our leaders and members to initiate and respond in specific situations where the human voice may not be heard.

This matrix can be cut out and taped onto a water bottle with transparent packing tape which will somewhat protect the paper from moisture. In order to communicate in an emergency the whistle is to be worn on the outside of a backpack or day pack.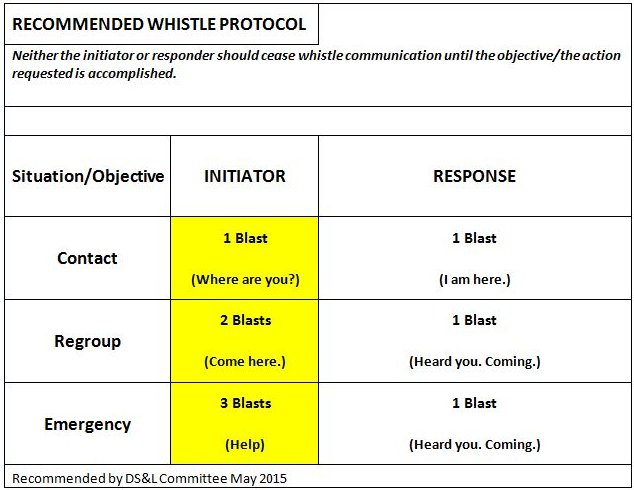 Links:
Warning! Climbing, mountaineering, and backcountry skiing are dangerous and can seriously injure or kill you. By further exploring this web site you acknowledge that the information presented here may be out of date or incorrect, and you agree not to hold the author responsible for any damages, injuries, or death arising from any use of this resource. Please thoroughly investigate any mountain before attempting to climb it, and do not substitute this web site for experience, training, and recognizing your limitations!


Back to Roger J. Wendell's Home Page...


Abbey | About | Blog | Contacting Me | Copyright | Disclaimer | Donate | Guest Book | Home | Site Index | Solutions | Terms, Conditions and Fair Use
Copyright © 1955 -